What you need
½ cup quinoa
1 cup gluten-free chicken broth such as Better Than Bouillon®
¾ cup chopped cucumber
¾ cup chopped celery
½ cup snipped fresh parsley
¼ cup thinly sliced green onions
1 tablespoon snipped fresh mint
1 recipe Tabbouleh Dressing
¾ cup chopped tomato
4 lettuce leaves

How to make the salad
1
Place quinoa in a colander and rinse with warm water for 2 minutes. Note: quinoa must be rinsed VERY WELL to remove the bitterness on the grain. In a saucepan, combine quinoa and chicken broth. Bring to a boil and let cook until quinoa splits and absorbs most of the chicken broth, about 15 minutes. Drain and cool.
2
In a large bowl combine quinoa, cucumber, parsley, green onions, and mint. Drizzle with Tabbouleh Dressing and toss to coat. Cover and chill for
4 to 24 hours. Stir tomato into quinoa mixture just before serving. Serve on lettuce leaves. Serves 4.
Tabbouleh Dressing:
In a screw-top jar combine 3 tablespoons canola oil, 3 tablespoons lemon juice, 2 tablespoons water, and ¼ teaspoon salt. Cover and shake well.
---
Gluten-Free Spicy Hummus
My son, Michael and his wife Marcia developed this recipe—they love hummus and their little ones love it too. Gluten-free flatbread or crispy crackers are the perfect partners for this zesty sesame-flavored hummus. Download the Recipe Sheet above for the recipe and tips for making perfect hummus.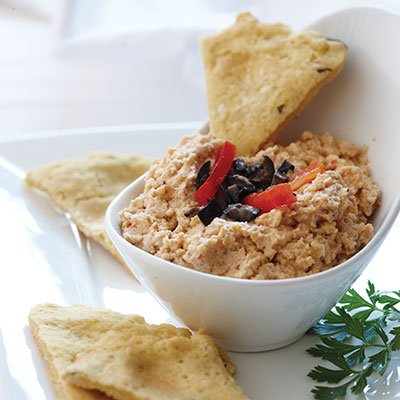 What you need:
2 cups canned garbanzo beans, rinsed and drained
2 cloves garlic, finely minced
1 teaspoon minced jalapeño pepper
1⁄2 teaspoon salt
1⁄2 teaspoon black pepper
3 tablespoons lemon juice
3 tablespoons tahini (sesame paste)
3 tablespoons olive oil
1⁄2 to 1 cup tomato juice
Chopped gluten-free black olives (optional)
Coarsely chopped tomato (optional)
To make the Hummus:
1
Place garbanzo beans in a food processor. Cover and process until blended. See Photo A.
2
Add garlic, jalapeño pepper, salt, and black pepper. Cover and process until combined. See Photo B. Add lemon juice, tahini, and olive oil. Cover and process until well blended. Mixture will be thick.
3
With machine running, slowly add enough tomato juice to make mixture the desired consistency. See Photo C. Transfer to a serving bowl. If desired, garnish with olives and tomato. Serves 10.
Note: Garlic must be finely minced for uniform flavor.

---
Gluten-Free Garbanzo Bean Soup
Serve this awesome bean-and-pasta soup with fried gluten-free corn sticks. To make the corn sticks, make gluten-free cornbread and cut into narrow rectangles and fry the pieces in a little butter.