Skip Navigation
Website Accessibility
Videos

Below you'll find some videos to watch that will show you some tips and tricks for making the recipe or project.
Holly Cookies Recipe Sheet Free Digital Download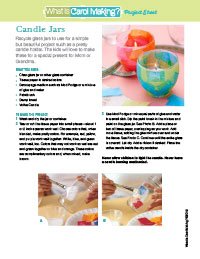 Candle Jar Project Sheet

Free Digital Download
How to make Holly Cookies
You'll love these easy-to-make Holly Cookies using the best sugar cookie recipe ever! If you want to download the Recipe Sheet for this just click above: Holly Cookies
---

How to make Quinoa Tabbouleh
This tabbouleh is gluten-free because it substitutes quinoa for the usual cracked wheat in most tabbouleh recipes. If you want a Recipe Sheet for this yummy dish, click above: Quinoa Tabbouleh
---

How to make a Clever Holiday Centerpiece
This centerpiece is so easy to make and can be adapted for most any time of year. If you want the Project Sheet for this centerpiece click above: Clever Holiday Centerpiece

---

How to make Wafer Cookie Christmas Trees
This food craft is fun for the entire family to make! Old-fashioned wafer cookies are cut and frosted together to make the charming little trees. If you want the Recipe Sheet for this food craft, click above: Wafer Cookie Christmas Trees

---
How to make Tissue Paper Candle Holder
This project is great for kids or anyone that wants to make a quick and easy (yet beautiful) candle holder. To order the Project Sheet, just click on the sheet above.